Practically everyone has heard the song – La Mer.
Not everyone realises that the song was written and sung by Charles Trenet – who was often known as 'The singing fool'.
Charles Trenet let us have the image of a smiling man, always happy, who, with his famous rolling-brimmed hat, impressed crowds with his shock of red hair and his rolling eyes – a trait you can see in the video clip below.
Behind the fool was an incredibly sensitive man who had to hide his homosexuality from the public and German occupied France.
Yet his lyrics are peppered with references to desire and hide the complexities within him – a terrible childhood, divorced parents – often overlooked by the public.
Is it any wonder that he would write a classic like La Mer while on a train journey to his beloved South of France -  a song full of hope about Spring and beautiful blue skies.
He was born in Narbonne and died there in the South of France (18 May 1913 – February 19th 2001).
To this day, he is classed as one of the greatest representatives of the Chanson for millions of French speakers.
The clip above was filmed in Olympia in 1973.
Aged 17, Trenet turned up in Paris and wrote his first songs. He got a duet: Charles et Johnny, in 1933.
The first shows at the Palace were a flop but fortunately, success came with shows at the Fiacre. A contract was signed with Pathé Marconi and Trenet was on his way.
In 1936, he went to do his military service and it was at this time that he wrote his first great songs: "Je chante" and "Y'a d'la joie".
Je chante was a huge success.
In 1939 he got the "Grand Prix du disque" award with "Boum!"  See him performing it below in characteristic style.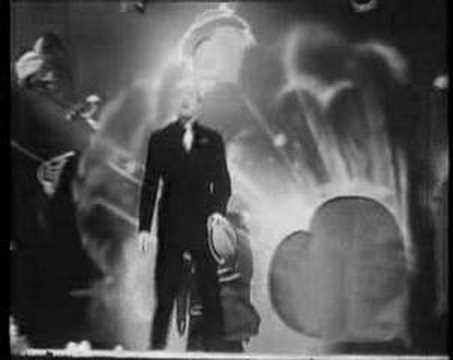 In 1945 as soon as the was was over he went to the USA, took a flat in New-York and gave a performance in Broadway.
Then he left to sing in Los Angeles, to Brazil…and as one commentator put it – for years he didn't come back.
"La Mer" was released as a disc in 1946 and more than 4000 versions of the song were recorded all over the world.
It became a Jazz hit sung by Frank Sinatra, Bing Crosby, Bobby Darin, George Benson.
In 1954 he was in France and appeared at the Olympia: his new songs: "Nationale 7″, "un hymne aux congés payés", and "Moi j'aime le Music hall" were great successes.
By then, Charles Trenet had already sold more than ten millions of long playing records – a magnificent achievement for the time.
He disappeared for a while but came back in 1965 to share the play bill with Georges Brassens. He made his comeback at the Olympia in 1971 with his song "Fidèle".
He signed a new contract with CBS. The next generation of listeners, the younger French, elected again that his songs were great classics.
He said his farewells to the stage at the Opéra Bastille in 1993…but reappeared at the Salle Pleyel in 1999 for one last time.
He finally passed away in 2001, leaving a great void in his wake.
Similar Posts you might like: